PIGEON FORGE, Tenn. (CelebrityAccess) CelebrityAccess recently talked to one of the magicians at the Houdini magic shop at New York, New York in Las Vegas, who spoke of all the big fans of magic, and many of the people who work in the music biz who either perform for family and friends or who began their careers as magicians.
The reader might be surprised: they might be sitting right beside you in your office. We literally spoke to people who never knew their co-workers led secret lives as prestidigitators. One thing led to another, and we wound up with five voices – too many to put into one article.
As for artists, some of the big names are apparently Willie Nelson, Rodney Atkins and Barry Gibb from the Bee Gees. Nelson is known to perform the complicated card trick "Sam The Bellhop" on his famous tour bus and Gibb is said to be a big fan of performers like magician's magician Paul Harris. Nelson's camp entertained the possibility of getting an interview with the Red-Headed Stranger but his busy summer schedule is about to start; Gibb responded and respectfully declined.
Still, many in the industry have more than a passing interest in the art form. Some began as stage performers; others have absorbed magicians into their clientele. 
This is the third of a five-part series (first was Arny Granat, co-founder of Chicago promotion company Jam Productions, second was Tony Conway of Conway Entertainment Group). 
This time, we talk to Darren Romeo, a professional magician working out of Dolly Parton-land, Pigeon Forge, Tenn. Romeo is the official protege of Seigfried & Roy, has been named Magician of the Year at the Magic Castle and is the only magician allowed to perform Harry Blackstone's famous floating lightbulb routine.
He's also unique in that he sings throughout the entire performance.
Romeo does not have any relation to the family that runs Romeo Entertainment, but he has a long background with those in the industry and was happy to talk to CelebrityAccess about how the industry views magic from his perspective.
"Magic Beyond Belief" is a multimillion-dollar stage show at the Smoky Mountain Opry Theater that is performed as early as 10:30 in the morning.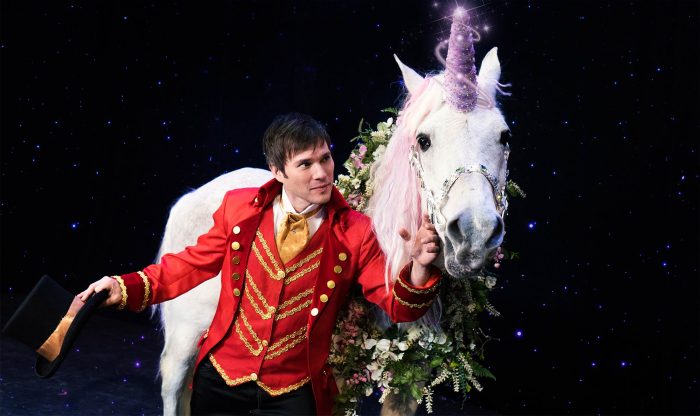 You're up early for a performer
I can wake up in the morning because for the first time in my life, in Pigeon Forge, in the first time in my entire career, I have agreed – and I swore once upon a time I'd never do this – but I'm doing two 10:30 am shows a week. So in order for my voice to work I'm up at 6:30 am.
Can you imagine people coming to a show at that hour? And actually be lively?
But you're heading over to the theatre today at 12:30.
Yeah, today is a 3 o'clock show. And I'm a New York and Vegas boy, so I was always used to 8 o'clock shows. It was already a life adjustment. But I was in Branson and that was the first starting point.
I didn't answer your rhetorical question but 10:30 a.m., for magic, doesn't seem kosher.
There is a marketplace over here, between Branson and Pigeon Forge, where there are bus tours, even though they are dying off. If you've captured them, these seniors are having breakfast at 7 a.m. And they're ready to go at 10:30. It's actually, to my surprise, a livelier crowd.
They're not half-dead at that point, anyway.
So you're a magic enthusiast?
Let me put it this way: tomorrow night I'm going to a Gregory Wilson lecture and, while we are on the phone, I'll be refreshing PenguinMagic.com looking for discounted / open box deals.
Really cool! OK. Well, I'm grateful for the connection. Ask away.
Well, basically this starts with a conversation with Jeffrey, the magician at the Houdini magic shop at New York, New York in Vegas. He'll get emails from people like Willie Nelson, who does "Sam The Bellhop."
Oh wow! How fun is that? Can Willie keep that card count going?
I know, right? But you can find the video.
That's completely amazing.
I'm still looking for people to talk to in the industry if you know of anyone.
It's really ironic because I think that music and magic are hand in hand. A lot of people in the magic community criticize my approach when I was first starting and then only through the Blackstone legacy and certainly Siegfried and Roy did I feel, I guess, truly supported by the people who were entrenched in the industry.
In the beginning, when I started to combine the music and the magic and the singing, I got so much criticism. "Well, you've got to pick one or the other." I'm talking about some of my idols in the industry! It was quite frustrating. I love them. But at the same time, they were saying it was never going to work. The singing and the magic? Never going to work.
Big names, not worth mentioning. But it was hurting my feelings. They were mentors and father figures. But I'm the 'damn the torpedoes' kind of guy. Tell me not to do something and, if it's in my gut, I'm going to do it.
I set out, one piece at a time. For me, I based every approach to my show in some sort of truth that meant something to me. The kicker was that I was named after Bobby Darin.
Because I was named after Bobby Darin, the first thing was I sang and I did was straight forward. I was a kid but it worked so well, so it seemed like the niche. That gave me the confidence to follow it.
In my teenage years, I had a bird act and I was doing birthday parties. I was thinking, "Where are you going to go with this?"
I just realized I loved music so much and I do believe so much of music – Sam The Bellhop is the perfect example. If you think about it, when it's performed well, it has a rhythm to it. It has a musical rhyme. A "bit buh buh" and a "bit buh buh." you know? When they're dealing out the cards. It's almost to a metronome, or against one.
So, anyway, where do you want to go with that?
So do you know people behind the scenes who are secretly into this magic stuff?
I know tons and tons of artists and slash famous people but in terms of agents, the only one that comes to mind is Danny Robinson at APA. He was a performer. I also know one of the biggest agents in the business – he's represented everyone from Chris Rock to Jay Leno to so many other people, his name is Steve Levine – and he has great love magic but I don't think he does magic. I believe Steve is now the head of ICM Concerts and Touring department.
And that's a weird coincidence because my long-term female assistant, who's been with me since birthday parties, married into his family. So I had two or three Thanksgivings with Steve where we just talked about this crazy business for hours. He's one of the few – I hate to say it – one of the few genuine ones out there. I like him a lot. He's a good man. So is Danny, from what I know.
But a lot of the agents and the managers, from what I know, are a bunch of shysters, so it's really hard to find the good ones with the great characters and care about their artists. That's a magic trick in its own.
So how did you find your way to becoming a protege?
Well, I think it was – in the direction of your article I think – it's because I fell in love with music as much as I fell in love with magic. By attempting, and trying to pair the two together, I would always answer the initial criticism from my young years that said it couldn't work and say, "wait a minute." At that time, every one of Copperfield's single pieces was a vignette. There were two a song and this amount of dance and this amount of magic.
I said, "So what is the difference if you're dancing or singing?" It has a cheesy connotation but if the song is playful, you have an excuse to do anything as long as it's theatrical or a love song or a ballad. Then it works perfect right?
I said all of that to say this – so by the time I got to Vegas was with very little financing just with my own made money from birthday parties. I was proud of it. The props lacked but it was my swing at the bat and I was lucky enough because of my relationship at the Magic Castle with the Larsen family, specifically Princess Irene who is in the heavens now.
Long story short she was friends with Siegfried and Roy and so when I got my first swing at the bat, and I had already beat down every agent's door and coming up short, Princess Irene literally dragged Siegfried and Roy to see the show and they saw it once, and they saw it again, and then a friendship developed.
It was at the right time, and at the right place, where they were trying to help a kid out. Let's give him an opportunity. Let's polish up a prop or two. But over the friendship that developed it really came to have multiple dinners and going to multiple events and one time a camera went in front of Roy's face and asked who was the young kid. And immediately, and organically, he said, "This is our protege, Darren Romeo."
And I almost fell over. It took my breath away. It was one of those few moments in life where you just go, "Did that just happen?"
That and the Blackstone story.
It's the same community that went against this is the same community that made one of the greatest opportunities in my life. So, for 10 years, it was Siegfried and Roy presents Darren Romeo.
Now it's pretty unbelievable.
Now it's like I have some of their props, they were my college, but I'm on my own.
You were named magician of the year at the magic castle?
I was. You always take the date off of that so you can use it forever! But that was an amazing time in my life. I felt the magic community was vindicating me at the time.
Hard to express this but either you're a Shin Lim / Chris Angel or you're a Michael Ammar / Darryl.
I think I know what you're saying. What you're saying is, "Why are you not more famous?" And I say this: It's really something you come to terms with over your life. There is the fake fame and then there is the real fame. I came up with with a joke: Timing is the essence of … timing (instead of the essence of life). All of my timing with Siegfried & Roy was the right place / right time. My career went ass-backwards. The short story is that when this all happened with Siegfried & Roy, Kenneth Feld was involved. So I was also in the middle of intense Las Vegas politics, which did also culminate with the accident that happened with Roy.
So you can imagine all the things that come with that.
So, around that time it was up to me to reinvent myself. I was getting casino gigs. But the biggest contract I ever signed was with the Welk Resort in Branson, Mo., and that was a huge four-year deal. For me, I was at least able to stay true to myself and be the creator of my show and do everything.
What I missed in my career, which we tried many a time, is to have television. Now, I've done it but I've never done the America Got Talents and was advised not to, actually. We got close but it never happened; that's the short version.
Without television, as you can see with Matt Franco and Shin, you need television to perpetuate superstardom. The real shows in Vegas book you because you're already selling tickets based on your television fame. On every talk show, they're the people who already have 6 million views. Everybody gets booked on fan base and popularity. I just kind of did my own path and, without television, you're only famous to the people who know you or if you drive around Pigeon Forge and see the billboard.
It's an artificial reality, and it humbles you, but I've had a blessed life.
A lot of the people who are famous also love being ONLY famous enough that they can still go to Target, minus maybe one photo or two.
To me, Siegfried & Roy's spirituality and their message in life are very important to my value system, and all of the stories I tell in my show, besides the fun and the silliness, when we come to the faith.
When I was 11, I gave Blackstone a business card that said, "Dear Mr. Blackstone, I'm 11 years old. I really want to meet you after the show."
I sent it backstage. Cut to when I premiered at the Mirage with Siegfried & Roy when Mrs. Blackstone gave us a gift of that business card, that she found in his wallet five years after he passed.
That's one of those things where, no matter what magic I've done or accomplished, that's the real magic of life. It's just an amazing full-circle story.
Seeing Siegfried & Roy when I was 14 at Radio City and then becoming not just friends but spending every Christmas Eve with them? And then to get a red-eye back to spend with my mom and dad on Christmas day? It's a messed up Christmas show married couple.
Now, my warm fuzzy is Dolly Parton, with her value system. One of the reasons why I came to Pigeon Forge, because of my music, is because this town only has one star, and that's Dolly Parton. Coming to this town is an investment in my future.
She hasn't seen my show yet but I think she'd really connect with it.
I was going to say that even though laymen are watching the show, it would be amazing to those who are in the know.
It's a shame you're so far away. This show is pretty much two and a half hours, act one and act two, and because I'm dumb and not as young as I used to be, there is every power ballad in the show, which is difficult to hold up with a singing voice. But as a lover of magic and music, it's right up your alley.
The Illusionists came through this market and it was fun to watch my guest be enthralled .. because it's so rare to see magic.
Yes! Just the mere fact that twice, or if you want to count Shin's double-win, three times a magician has won in a decade of America's Got Talent, it's unbelievable. I mean, yeah, there is always room for good magic. We need to purge the bad stuff.