SYDNEY, Australia (CelebrityAccess) The Sydney, Australia, suburb of Parramatta has opened its new stadium, launching it with a spectacular light show Wednesday prior to next week's official launch.
The $360 million Bankwest Stadium is home to the rugby's Parramatta Eels with a 30,000-seat capacity. It is expected to soon host the Canterbury Bulldogs and West Tigers.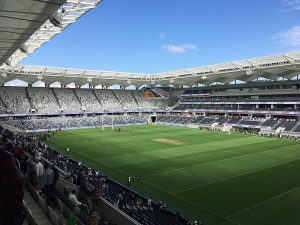 The facility has the steepest stands in Australia and has been designed to amplify crowd noise, according to Pan Stadia, with 360-degree LED screens to create a wall of sound and color.
Some stadium facts:
The Stadium will cater for bigger crowds, provide an improved game-day experience and bring major benefits to the Western Sydney economy;
Generate approximately 1,200 jobs during construction and between 600 and 900 jobs once operational for sporting event days and major events;
Offer improved facilities for spectators including high-quality food and beverage facilities, improved screens, and better function facilities;
Total budget of $360 million with Lendlease appointed as design and construction partner;
Early work commenced in June 2017 with major work commencing in September 2017;
30,000 seats, all fully roof covered and closer to the action than ever before in Australia;
3,000 premium seats and 54 suites;
Full Wi-Fi coverage throughout the stadium;
A 360-degree open concourse with views of the field of play so that fans won't miss any of the action when buying food and drinks;
Two flexible function spaces with views of the field and the parklands beyond the stadium;
Facilities catering to the emerging female sports industry including four team change rooms, which means women's games can be played before men's games.
"There's a bit of a weird smell in here at the moment, I don't know what it is," the Eels' co-captain Clint Gutherson told reporters. "But yeah, it's pretty exciting not only for us as players but for everyone involved."
h/t Pan Stadia and Fox Sports