MANHATTAN (CelebrityAccess) Rapper YBN Almighty Jay reportedly required 300 stitches to his face after being repeatedly stabbed multiple times during an attack in Manhattan over the weekend.
The rapper has been released from the hospital, according to TMZ, but spent a couple of days in the hospital after the brutal attack on the streets of Manhattan on Friday and a separate attack and robbery later that night.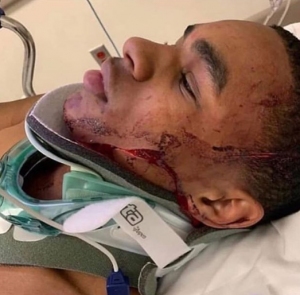 He was apparently jumped around midnight in a lobby of a residential building and, as he tried to flee, was dragged into a more serious assault, according to TMZ. Along with getting stomped, Jay was stabbed several times and got head and facial lacerations when someone hit him over the head with a Hennessy bottle, according to sources. It was that second wound that required the numerous stitches.
Apparently, neither Jay nor witnesses are talking to the cops. Meanwhile, the alleged attackers, including Zae Numbafive, are – believe it or not – flaunting the chain stolen from Jay during the attack in a music video and that the attackers are showing off personal items like Jay's stolen shoes and ID on social media.
Meanwhile, J Prince has put out an APB to his "mob ties" on Instagram to nab Zae and his crew.