LAS VEGAS (CelebrityAccess) CelebrityAccess visited the Personal Managers Interchange, a May 9-10 conference for entertainment, music, sports and talent managers held at the Downtown Grand Hotel & Casino in Las Vegas. The conference included eight intimate panel discussions, four per day.
At first, we thought we could provide an overview of each day, or both days combined, but the panels were (so far) so dense with information, they need to be reported on separately.
Below is coverage of the second panel, "The Contract Conundrum," moderated by Clinton Billups, president of the National Conference of Personal Managers. On stage were Arnold M. Preston Esq., Preston Entertainment and Matthew M. Pruitt, Esq., Alverson Taylor Mortensen & Taylor. On mic was Rick Siegel of Marathon Entertainment.
There is a tropism in the entertainment industry, a romantic image, of a manager telling a client, "I do all my business with a handshake. If you ever want to leave me, fine."
Many times, it's true. But when it comes to having an oral agreement versus a written agreement, the panel, and many in the audience, made it clear: if you're a manager, get something in writing. And even when you have that piece of paper, it can become problematic.
In fact, Arnold Preston, Esq., manager, and Rick Siegel, manager, two of the three main panelists, were instrumental in influencing current contractual agreements.
"If you end up in court or arbitration where a client has to pay you, two of the reasons why you could win are in this room – Arnold Preston and Rick Siegel," moderator Clinton Billups said.
Siegel's company, Marathon Entertainment, was the victor in the landmark case Marathon v. Blasi, Preston was the victor in the Supreme Court decision Preston v. Ferrer. Both involve one of California's most idiosyncratic laws, the Talent Agency Act, that disallows managers from procuring employment for their clients.
(As defined by Boesch Law Group: California's Talent Agency Act requires anyone who solicits or procures artistic employment or engagements for artists to obtain a talent agency license. Labor Code §1700.4, 1700.5. Talent managers who have "solicited" or "procured" work for their clients may find their contracts voided by the Labor Commissioner, and may even be required to return some or all of their earned payments.)
In Marathon v. Blasi, Siegel's company brought suit against client Rosa Blasi for unpaid commissions. Blasi petitioned the Labor Commissioner asking for relief from her contractual obligations, citing the Talent Agency Act, that Siegel operated as a talent agent without the proper license. Ultimately, the California Supreme Court ruled in Marathon's favor because the Labor Commission had wrongly not been incorporating severance when adjudicating the TAA controversies.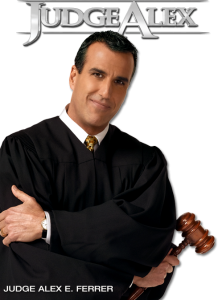 As for Preston v. Ferrer, that's Arnold Preston, former William Morris agent (and attorney) who became a manager to Alex Ferrer, known in TV land as "Judge Alex." Preston told his tale of woe – a long and expensive journey to the Supreme Court and back. Basically, Preston and Ferrer signed a contract that said if there was any dispute, it would be taken to arbitration. Then Ferrer got a TV show on Fox.
"I heard from a friend, 'Congrats on your client, Alex. He sold the show to Fox.' It was the same produceres I introduced him to. I quickly ran to my contract and, yup still in force, terms still there. He's still my client. I guess my client did just get a show.
"He didn't want to pay the commission because that was part of the agreement for him to do the show. Thus began a too-long journey."
Ferrer took his case to the Labor Commission because "that's always considered a quick and easy way to eliminate contracts that clients no longer with to abide to" – if "quick and easy" means two to four years. "Attorneys will say, 'Oh, just go to a Labor Commissioner. It will all be good.'"
Preston filed for arbitration, as per the contract. Along comes the complaint with the commission that he was operating as an unlicensed talent agent, and Ferrer asked the state supreme court to stop the arbitration. The case traveled up and down the chain of command, decision to decision, with the state supreme court finally denying to review the case.
"The whole arbitration clause was to avoid this journey," Preston said, "to eliminate this drawn-out process."
He and his attorney took a longshot and appealed to the U.S. Supreme Court because it involved interstate commerce – a Florida judge signing a contract in Nevada with a Delaware company for a show in Texas.
"They ruled eight to one in my favor, with Clarence Thomas the lone dissenter.," he said. "Technically I was entitled to all the attorneys fees and right to arbitrate and start off where I wanted to go in the first place."
Now the question becomes, Who is a good arbitrator? At this point, a manager is provided a list of attorneys to choose from.
"It's like picking a cherry," Preston said. "You get lists. You look at the particular lawyer's background, you look at what they did, how they ruled if they used to be a judge, what their leanings are, and try to pick someone understanding of your position. It's like picking a jury, or deselecting a jury."
It should be noted that Siegel made the case that even though the Labor Commission rules 90 percent of the time in favor of the client, they at least know the law versus an arbitrator who may only have tertiary knowledge of it).
"I've never heard of an arbitrator ruling for a manager. At least a couple times a labor commissioner will," Siegel said.
Meanwhile, oral contracts could be subjected to a rule called Statute of Frauds that can be vastly reinterpreted between disparate states like New York and California.
"NCOPM has a standard management contract for its members and will be issuing a revised version of it," Billups said. "It was prompted by the calls we get from managers about oral contracts versus written contracts.
"Now, by the way, there are many online arbitration services, and that's where I got a noted arbitrator out of Boston. Going to the American Arbitration Association can be even more expensive than going to court. My arbitration cost me a $175 filing fee."
Preston said, "I tell my clients, 'I'm not binding you to slavery. We're good. The status of the contract will just tell us what we are entitled to based on what we've been through together and what you're entitled to.' It's a nice way to make the people feel they're not signing on to you for life. You can fire me the next day but it tells me what protections I have and you have."
"The first person I ever told I was going to be a manager was this lovely man named Rick Bernstein, who had been the manager for David Brenner and Jeff Dunham," Siegel said. "We're sitting at the bar and I say I'm thinking of becoming a manager. He gets right in my nose and goes, 'I've got three words of advice for you: They. All. Leave!' And he left the room. That's the best piece of advice you'll ever get. The first time a client left me, the first thought was, 'Eh. They all leave.' It didn't kill me.
"Someone said that 48 percent of all marriages end in divorce which means 52 percent of all marriages end in death. If you had the choice … ."
Manager Howard Wolf, from the audience, tied everything up in a nice pretty bow.
"I have an answer for what was brought up about. 'Don't you trust me?'" Wolf said. "I have come upon this and have never had a refusal because this is what I tell them: 'This is an agreement between us. The reason why this is in writing is for third party, not us. I've had clients who have died while I was managing them. So instead of the courts doing something, I at least had something in writing and if I pass away, you have something in writing so that we can settle everything, you can settle everything properly. It's for the third party, not us. Yes I trust you, you trust me.'
"I've never had a problem with it."